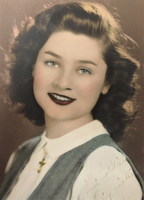 Nora Yawien
Nora Yawien, age 97, of Brooklyn passed away Sunday, March 15, 2020. Nora Yawien was born April 9, 1922 in Brooklyn, NY. She is the daughter of the late James and the late Xahausty Stathakis. Beloved Wife to the late William S. Yawien. Cherished Mother to William P. Yawien (Caren). Adored Grandmother to Valerie Rose Yawien.
Wake service to begin on Wednesday March 18, 2020 from 3:00 to 8:00 PM at Marine Park Funeral Home. 3024 Quentin Road Brooklyn, NY 11234. 718-339-8900.
Funeral Service will be on Thursday March 19, 2020 at Kimisis Theotokou Church for 9:30 AM. 224 18th Street Brooklyn, NY 11215.
Committal to immediately follow to Calverton National Cemetery. 210 Princeton Boulevard Calverton, NY 11933.
To send a Floral Tribute please contact Floral Fantasy at 718-238-6978.