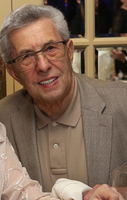 Thomas Cuccurullo
Thomas F. Cuccurullo, Sr.
11/03/1936 - 06/16/2020
Born in Brooklyn, NY to Frank and Fannie Cuccurullo on November 3, 1936. Thomas was predeceased by his beloved wife, Irene. Father of five children and "Grandpa" to many. Brother of Susan Leddy, Marylou Feely, and Gerald Cuccurullo. Beloved uncle and cousin.
Thomas will leave behind many friends. He ran a business for over 50 years and leaves a great legacy behind.
A Memorial Mass will be held at Mary Queen of Heaven RCC on Friday August 7, 2020 at 10:00 AM.
Rest In Peace