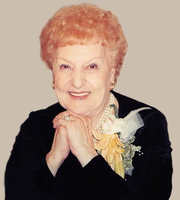 Mary Todisco
Mary Mongelli Todisco, Brooklyn NY, wife of late Peter Todisco, Bisceglie, Italy, passed away peacefully on May 28, 2021, at the age of 106.
She is survived by her daughters, Josephine Tacconi and husband John of Brooklyn, New York, Lucille Sorrentino of Scituate, Massachusetts, and Diana Cuzzolino of Brooklyn, New York. Mary's grandchildren include Leonard Tacconi and wife Kathy of Marco Island, Florida, Peter Tacconi and wife Diana of Oceanside, New York, Michelle Daniels and husband James of Scituate, Massachusetts, Dana Duggan and husband Matthew of Quincy, Massachusetts, Heather Robertson and husband Benjamin of Port Jefferson, New York, Dante Cuzzolino and wife Danielle of Freehold, New Jersey, and Peter Cuzzolino and wife Kathleen of Staten Island, New York. Mary's great-grandchildren include Kerilyn, Robert, and Michael Tacconi; Kristen Marie Ballot (husband Ben), John Joseph and Nicholas Tacconi, and Christopher Ellison; Jay, Jennifer, and Jessica Daniels; Gabrielle Rapsisarda (husband Anthony Jr.) and Dante Cuzzolino, Jr; Ryan and Samuel Robertson; Donato, Kiera, and Olivia Cuzzolino. Mary is an aunt and great aunt to many nieces and nephews.
Mary held a managerial position for 25 years at Lane Bryant Department Store in Brooklyn, held a volunteer position for 30 years at the Gold Age Club located at St. Columba Church, and happily entertained family and friends on holidays and celebrations.
"Nana" is loved so much by her children, grandchildren, and great grandchildren. She will be deeply missed by her family and friends at the St. Columba Golden Age Club. She enjoyed visiting the casinos with her friends and playing the slots. We will also miss her pizzelles, her manicotti, her love of coffee, and her wonderful conversation.
Her family wants to especially thank the wonderful and professional staff at the Chateau of Brooklyn Nursing Home and Rehabilitation Center where Mary has lived since 2017.
Forever In Our Hearts
Visitation will be held on Tuesday June 1, 2021, from 3:00 – 7:00 PM at Marine Park Funeral Home, 3024 Quentin Road, Brooklyn, NY, 11234.
A mass of celebration will be held 10:00 AM at St. Columba Church on Wednesday June 2, 2021. A private family burial following mass at Greenwood Cemetery.
In lieu of flowers, donations can be made to the St. Columba Golden Age Club, 2245 Kimball Street, Brooklyn, NY, 11234.
Please take advantage of the Tribute Wall tab to express your compassion and condolences over Mary's passing.