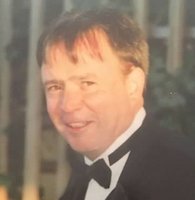 Michael Redmond
Michael Redmond passed away peacefully at home on May 28, 2021. He was 61. He leaves behind his loving wife of 22 years Mary Anne and his loving siblings Karen, Linda (Angel) and P.J. (Dee) and along with his in-laws Michael and Nancy, Bill and Rebecca, Bob and Dorothy and will be greatly missed by nieces and nephews Manal, Matthew, John, Cyndi, Ivana, Scott and Steven.

Mike was born and raised in Brooklyn to the late Buddy and Pat Redmond. He proudly followed in his fathers footsteps and became a pressman for the New York Times for over 30 years until his retirement in 2016.

He will be greatly missed and dearly loved by family and friends.
Forever in Our Hearts
Visitation will take place on Wednesday, June 2, 2021 from 4:00 - 9:00 PM at Marine Park Funeral Home, Inc.
Mass of Christian Burial will be held on Thursday, June 3, 2021 at 10:30 AM at Resurrection Roman Catholic Church.
Burial to immediately follow at Holy Cross Cemetery.
If you wish to send flowers to the family please CLICK HERE or call 718-238-6978.